Jane Whorwood, 1612-1684
Secret Agent and confidante of Charles I who played a key role in the English Civil War
By John Fox
Early life
No portrait of Jane Whorwood has been found. She was born in 1612 to a Scots official of the Westminster court, William Ryder, and his wife Elizabeth de Bonfyn, from Antwerp. Her father died shortly after accompanying James I on his formal visit to Scotland in 1617. Her mother remarried, to a more influential Scots courtier, James Maxwell, Black Rod and Garter Usher. Jane (Jeane, Ginne Janna) and her sister Anne were joined by two half sisters, Elizabeth and Diana. Their stepfather's wealth, influence and ruthlessness helped them marry well, if not always happily. Jane married Brome (pronounced 'broom') Whorwood, heir to Holton Park, Oxford, in a disastrously ominous wedding in 1634; Anne married Sir Thomas Bowyer of Leythorne, near Chichester; Elizabeth married William Hamilton, Lord Lanark and later 2nd Duke of Hamilton; Diana married Charles Cecil, Viscount Cranborne, of Hatfield House.  Jane had 4 children, 2 of whom, Brome junior and Diana, survived into adulthood.
Smuggling gold into the royal court at Oxford
In 1642 the royal court settled in Oxford, the royalist 'head garrison' after the declaration of war against parliament and the first battle at Edgehill, 30 miles away. Jane's father and Hamilton brother-in-law left the King's cause and went to Scotland, which had not yet aligned itself with Parliament. Jane took a different stance; using  her father's merchant contacts from London city, she organized the smuggling into Oxford of at least 775 kilos of gold from London, some 50 miles away. Her links with the royal laundress, who was licensed to bring soap in barrels by the wagonload to the court-garrison from London, and even fresh hosiery for the King from Whitehall, helped facilitate her smuggling. No doubt the inspiration of other lady agents at Oxford helped too: 3 court wives actually retrieved the royal crown from St James' Palace in 1643 and it remained in Oxford until the surrender in 1646.
Jane is also believed to have had carried intelligence to and from the royal garrison. Old friends from her childhood were now refugees in Oxford, which was only 4 miles from Holton; she was rumoured to have been mistress to a baronet, and certainly later secured a lucrative embassy posting for him from Charles I. She may also have neglected her children in order to give time to the crown, as her mother-in-law, Lady Ursula Whorwood, pointedly excluded her from her will in February 1647, while including her husband and children. It seems Jane was present at Holton House, General Fairfax's personal quarter during the siege of Oxford, for the wedding there of Bridget Cromwell and General Henry Ireton on the first anniversary of the battle of Naseby, in June 1646.
The King flees, Jane creates an intelligence network
The King fled from Oxford in April 1646, before it surrendered. He sought refuge with the Scots army outside Newark, preferring fellow Scots despite their being allied with Parliament. They took him to Newcastle from where they negotiated war costs with Westminster. Jane's stepfather attended him once more, as did William Hamilton, Jane's brother-in-law, in an uncomfortable about-turn of loyalty.  The King was released by the Scots into English hands in February 1647 and Jane, with her father's help, seems to have tracked his progress, 'a bird in a gilded cage … a golden ball thrown between Parliament and the Army', from Newcastle, via Northampton, Newmarket and eventually to the royal trappings of Hampton Court.
In the wings Jane made money for the King by defrauding the Parliament revenue committee and corrupting its chair ('Is Whorwood the real Chairwoman?' one royalist mocked openly). She also relayed intelligence between the King and supporters, and between the supporters themselves, spread as far as Edinburgh. Her sister, Elizabeth Countess Lanark, intrigued with her. Jane was also a regular visitor to the 'state' astrologer William Lilly, whose advice the King and others on both sides of the war constantly sought. (However, in the end, Lilly seems to have betrayed both her and the King.)
After 3 months of feigned Kingship at Hampton, free to communicate, and surrounded by Scots courtiers such as Jane's stepfather, the King suddenly fled overnight to the Isle of Wight. He believed the army were about to kill him. He spent exactly 12 months on Wight, at Carisbrooke Castle, first in open 'protection', then under close guard without right of contact. Jane Whorwood brought him intelligence, ran a correspondence network for him to London and Edinburgh, and managed plans for his attempted escapes in March and in May.  Both attempts failed, the second stranding Jane in serious danger for 5 weeks in the Medway waiting for the King to join her boat; around her the fleet mutinied and Kent county rose in rebellion. She had smuggled gold and intelligence for him, and her final plan was to smuggle him in person to Holland, but it failed. The Marquis of Hertford paid her a tribute afterwards: 'had everyone played their parts like Whorwood, the King would now be free'.
Jane in person
At least from this period of close observation by Parliament's spies we have a word picture of Jane:
'tall, well fashioned and well languaged gentlewoman, with round visage and pock holes in her face … red haired, as was her son Brome … exceedingly loyal, understanding and of good judgement … the most loyal to King Charles in his miseries of any woman in England' (Derby House Security Committee; Anthony Wood, Oxford diarist).
Newly-identified letters to her brother-in-law, William Hamilton, Scottish Secretary, confirm the courtly, mannered written style of other letters and the lack of any Scots accent – both suggesting a formal education. In managing the King's finances, intelligence network and his escape plans, she played a leading, not a subordinate part.
A sexual liaison with the King
In August the King was allowed parole from close guard to prepare for bizarre peace talks with Parliament, in which the army had no part. It was too busy suppressing royalist revolt in the southern shires and the invasion from Scotland led by James Hamilton and his brother William, Jane's brother-in-law.
Within hours of his parole the King invited Jane to his chamber for a sexual liaison and she responded, possibly visiting him again 2 nights later.  During the peace talks she travelled several times between Wight and London gathering intelligence about the Army's intentions. In November, after an urgent dash to London to confirm rumours of the King's arrest, she sent post haste a letter demanding that Charles escape. In this letter, as in other correspondence, neo-royalists have tried to edit out explicit signs of sexual or emotional involvement. Charles failed to escape and was arrested, brought back to Windsor Castle and, after trial in Westminster Hall, beheaded at Whitehall in January 1649. The trial and execution elevated him in the eyes of some royalists to the status of saint and martyr. Comparisons were even made with the crucifixion of Jesus Christ, with Whorwood being cast as a Scots Veronica, dashing to comfort Charles as he walked across St James' Park to the scaffold. Despite being perpetuated by well-known modern historians, this story does seem to have been invented by neo-royalists, possibly to counter scandalous rumours in the press of 1649. However, fresh evidence and a re-examination of established evidence confirms that Jane was closely in touch with the King less than 48 hours before his execution.
Unhappy return to husband and family
Two years later Charles II (crowned King of Scotland, if not yet of England) invaded from Scotland, but failed to gather support for his cause, lost the battle of Worcester and thereby failed to take Oxford or London as planned. Jane's brother-in-law, the new Duke of Hamilton, died of his wounds at Worcester, despite the attentions of Cromwell's surgeon. Jane had no option but to return to Holton Park to her children, a hostile mother-in-law and an even more hostile husband who had spent the entire war as a voluntary exile in France.
Brome Whorwood became an MP in 1661, just after the couple separated on grounds of her fear of death from his manic violence. She was awarded alimony, only a fraction of which Brome paid, despite repeated orders from the Crown, the Lord Chancellor and the Archbishop of Canterbury. The accounts of the violence, her injuries and her struggle right up to her death to obtain her awarded alimony, are preserved in Lambeth Palace and in State Papers. Brome took up with a servant whom he appointed governess at Holton. He demanded of Jane a 3-way relationship; she fought back, defied the judgement of Charles II and demanded action from sluggish bishops. She stood before the Bar of The Commons to demand member's privilege (as a spouse); she took Brome before Chancery repeatedly. The neighbours from Holton estate village and staff from the House took her side in and out of court. Stories were still being told in Holton of the horrific violence at the House well into the 19th century, a surviving folk memory within a closed community. She spent much of the period of separation 1659-84 in London.
Jane's son Brome took a genteel version of the aristocratic Grand Tour for 18 months during the Cromwell republic. Shortly after his return, by which time his mother had fled Holton for good, he drowned in the Solent attempting to sail to the Isle of Wight. Jane's daughter Diana married and inherited Holton House, but died childless. Jane's bloodline died out as the family name descended through her husband's illegitimate son by his housekeeper-mistress.
Conclusion
Jane Whorwood died in 1684, 6 months after her husband. Both were buried in the chancel of Holton church closer than they had been in life. (The housekeeper was buried there a decade later.) Jane's courage was considerable and she expended it for a heartfelt cause, however threadbare. Like all courage it cost her in fear, health and relationships. This and the domestic violence may even have turned her mind by 1660. In 1659 her mother described her as 'my ill daughter'. She did not receive any reward at the Restoration, outnumbered by men— many who had collaborated with her during 1642-49—who clamoured louder and exaggerated their roles. Her cause had also failed, unlike those other rescuers of Stuart kings, Jane Lane and Flora McDonald. She fell out with many, including her in-laws, husband and sisters (who all predeceased her and excluded her from their wills, as they had from the courtesy-naming of their daughters).
A spy or smuggler has few friends and leaves even fewer records. Neo-royalists also found her closeness to the 'martyr-king' uncomfortable. Thomas Wagstaffe (1711) and Cordell Firebrace (1932), in their published versions of her and the King's letters, actually excised or changed compromising phrases in a censorship born of misplaced loyalty.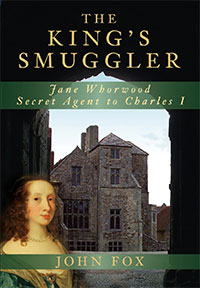 John Fox, Oxford, May 2010. John Fox is author of the first full biography of Jane Whorwood: The King's Smuggler: Jane Whorwood, Secret Agent to Charles I (The History Press, 2010)

(This biography has received attention from professional historians, excellent reviews in the national press and coverage on radio. Read HerStoria's review here)
Bibliography and core sources:
Thomas Wagstaffe, Vindication of King Charles The Martyr, 1711
Cordell Firebrace, Honest Harry, 1932
John Fox, 'Jane Whorwood', ODNB article, 2009
John Fox, 'The King's Smuggler: Jane Whorwood, Secret Agent to Charles I', The History Press, 2010.
British Library, Letters, Egerton Ms, 1533; Egerton Ms 1788
Cambridge University Library, Letters. Add. Ms 7311
Royal Library, Windsor Castle, Hopkins Correspondence No 1080413
Oxford University Bodleian Library, Rawlinson Ms B 225
National Archive of Scotland, Hamilton Correspondence, GD406/1/2205 and GD406/1/2228