Zabillet - the mother of Joan of Arc
By Joy Bounds
Introduction
The story of Joan of Arc (Jehanne) is well known. A young, fifteenth-century peasant girl, she led the French army successfully against the English occupiers, and was later captured and burnt at the stake at the age of nineteen. Numerous histories, films, plays, novels, theologies and even operas attempt to understand and celebrate her amazing achievements.
The family of any exceptional person is of interest. In my research, I found I wanted to know especially who her mother was, what sort of a woman gave birth to such a courageous daughter, and how she reacted to the events in her life. Much of the information we have comes from the records of Jehanne's trial in 1430-31, and of her retrial (or trial of rehabilitation) in 1456.
A traditional mother
Isabelle Romée is the name given to Jehanne's mother in the history books, but in her native Lorraine in far eastern France it sounded more like Zabillet. Romée was a name given to women who made a pilgrimage to Rome. There is no evidence that she did this and the name may have been given later out of respect, and because of other pilgrimages she made.
Isabelle Romée (Zabillet) was born in around 1375 into a family of peasants in Vouthon, a Lorraine village. She married Jacques, and they settled in the valley beneath Vouthon in Domremy, on the banks of the river Meuse. The tiny village was on an important trade route, with the small town of Vaucouleurs to the north, and Neufchâteau to the south.
Zabillet and Jacques appear to have established a comfortable life for themselves under their feudal lord Pierre de Bourlémont. They had five children – Jacquemin was the eldest, and then there were Pierre and Petit-Jean, Cathérine and Jehanne. We don't know the exact order of their births. Jehanne was probably born in 1412. Cathérine died as a young woman, and Jacquemin farmed in Vouthon. Pierre and Petit-Jean had a part in Jehanne's dramatic story.
The family lived the traditional life of peasants – working the land and tending the cattle (a communal activity at this time). Zabillet and her daughters span wool for their clothing and for trade. Jacques had a role in the village regarding weights and measures, and helped people find their taxes and levies. They observed simple religious practices at the church next to their house. On Saturdays, Zabillet would take her daughters to the tiny hermitage nearby, deep in the woods at Bermont. But during Jehanne's and her siblings childhood, war was beginning to affect the traditions and prosperity of village life.
The One Hundred Years war
France and England had been at war since the mid-fourteenth century. By the time Jehanne entered her teen years, the baby English King Henry VI theoretically ruled both countries, with the Duke of Bedford his Regent in France. With their allies the Burgundians, the English had succeeded in taking over most of the north of the country. The 'rightful' heir to the throne, the Dauphin Charles, languished on the Loire, the south recognising him as potential king, but affording him little meaningful support.
The town to the north of Domremy, Vaucouleurs, was one of very few towns in northern France to remain loyal to the French royal line. As a result, the area was particularly prone to attack or pillage – from marauders, from local warlords, and from the Burgundian/English alliance – and the villagers often took refuge in the deserted village manor (Château). Once, in 1428, Jacques, Zabillet, all the children and their neighbours became refugees for a few weeks in the town to the south, Neufchâteau. Here Jehanne had her first experience of a different, urban life. She waited at table at the inn to help with their costs. When they returned home, there was enormous damage to the village and their feudal lord had to give them bread for a while because their crops were destroyed.
Jehanne leaves home
We can only guess what Zabillet felt about Jehanne's growing independence. She had already refused to marry the man her father had chosen for her – even surviving a breach-of-promise action at the local court – and must have begun to have a clear idea that traditional village life was not for her. Age 17, under the pretext of helping a relative with a new baby in a nearby village, she went to Vaucouleurs and demanded that the Captain give her an escort to go to the Dauphin on the Loire. Her stated aims were to raise the siege of Orléans and have him crowned as King. Jehanne said at her trial that she knew her parents would not have allowed her to leave, so did not ask their permission. However, as soon as he was in safe lands, after a long and dangerous journey in mid-winter across hostile territory, she had a letter written to them saying she was safe and asking forgiveness.
Up to this point, Zabillet appears to be a traditional, loving wife and mother, expecting traditional behaviour from her daughter. Maybe she then underwent something of a change. According to Pasquerel, Jehanne's later confessor, she went on a long pilgrimage to Le Puy en Velay. It was a Great Jubilee, which occurs rarely when the Feast of the Annunciation falls on Good Friday. Thousands of pilgrims travelled from all over France to Le Puy, an important pilgrimage centre. There Zabillet met some of the men who had accompanied Jehanne on her journey to the Dauphin, and also Pasquerel, whom she asked to stay by her daughter.
On her return home, Zabillet arranged for her sons Pierre and Petit-Jean to go and stay by their sister. This must have been an enormous sacrifice. Now Zabillet and Jacques had no-one to help them with their land. They were sending two young farm boys to join their equally ill-equipped sister in what must have seemed quite crazy exploits. Perhaps it was the only way Zabillet knew to protect Jehanne.
Sadly, Zabillet probably never saw her daughter again. After a series of victories in which she raised the siege of Orléans and put the English to flight, Jehanne led the Dauphin to Reims, where French Kings had always been crowned. Jacques and other villagers went to see her, but the record is silent about Zabillet. Maybe someone had to stay at home, and she had already made her long pilgrimage that year. No doubt she was expecting that Jehanne and the boys would return home when the King was established on his throne. Instead, only a year later, Jehanne and Pierre were captured at Compiègne. After another year, in 1431, aged only 19, she was declared a heretic in a corrupt trial and burnt at the stake.
After Jehanne's death
Bleak years follow, and there are few records touching on the family. Around 1439 Pierre was ransomed as the civil war between the French royalists and Burgundians ended and the power of the English in France started to wane, and he went to live as a farmer in Orléans.
In 1440 Zabillet joined him there. What would make a 65-year old woman leave her native region and make the long journey to Orléans? There is no news of Jacques or Jacquemin at or after this time, so perhaps they had died. Moreover, although the war was technically over, traditional village life had been destroyed and rural poverty was immense. Perhaps she simply moved so Pierre could support her. And it was only in Orléans, it seemed, that Jehanne was still remembered, and her victory over the English celebrated. The city awarded Zabillet a small pension, and after a while she settled in Sandillon, a village just outside Orléans.
Slowly, King Charles VII and his soldiers took back the north of France. Jehanne's vision of a united France was realised at last. In 1450, the King triumphantly entered Rouen, the English 'capital' in France, and ordered an enquiry into Jehanne's trial. This was unlikely to have been out of love for her – after all, he had done nothing to help her during the long year of her imprisonment and trial. No, he probably calculated that it didn't look right for a 'relapsed heretic' to have enabled him to become King. It was quickly established that Jehanne had suffered terrible injustices, but only the Pope could overturn the verdict.
The search for justice
In November 1455, the 80 year old Zabillet travelled from Orléans with her sons and townspeople, and in Notre-Dame cathedral in Paris petitioned the Pope to restore justice to Jehanne. She mentioned the pain she felt that her transparently religious daughter was labelled a heretic. The enormity of the task overcame her, and she fainted. Nevertheless, she persisted, and the Bishops and the Papal Legate agreed to an enquiry.
A comprehensive 'retrial' was carried out with impressive speed. Evidence of character was taken from the proud villagers of Domremy who had known Jehanne as a girl; also from her travelling companions; soldiers, dukes and lords who had fought with her in battle; the townspeople of Orléans. All the evidence talked of her piety, as well as her courage and determination.
In a joyous celebration in Rouen in July 1456, the 1431 verdict was declared null and void. Jehanne was completely vindicated. Details of her sham trial and cruel mistreatment became clear. Arrangements were made to erect a monument so she would never be forgotten. It is not recorded whether the old peasant woman, who had seen so much and suffered so greatly, was there to see her daughter's reputation restored.- perhaps her age prohibited another long journey - though one at least of her loyal brothers was. We can only imagine how years of grief must have fallen from her as she heard the verdict.
She died two years later.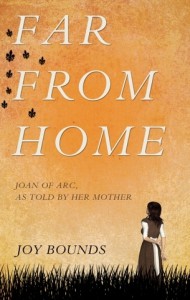 In her debut novel, Far From Home
, Joy Bounds (www.joybounds.co.uk ) takes the few facts that are known about Joan of Arc's mother, and retells the story from Zabillet's perspective. The novel is also available as an Ebook
and may also be obtained from www.troubador.co.uk.