Where are the Women in School History?
Sue Johnson takes an historical look at the curriculum …..
`Why didn't I know that before?` and `… but Women's History is real history!' are both familiar cries from undergraduates on women's history modules. Why are they only making this discovery at university? Probably because there has always been an absence of women in the school history classroom; not necessarily as teachers but as content. Traditionally political, military and economic history was taught. It was the study of great men and their deeds. Women, if they featured at all, reflected the stereotypical characteristics designated to them, so those deemed worthy of mention were 'good' as in Queen Elizabeth or 'caring' as in Florence Nightingale. Those who were 'mad' as in the suffragettes, or 'bad' as in Lucretia Borgia or Nell Gwyn, were included as a dire warning to others who felt inclined to behave outside the accepted parameters of womanly behaviour. The rest formed a huge hidden army trapped in timeless domesticity so not worth studying.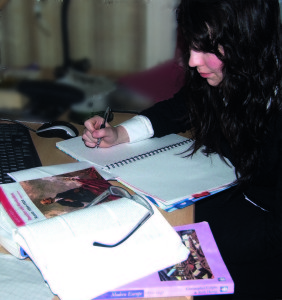 By the late 1970s with equal opportunities legislation in place this version of the past began to be questioned. Some history teachers were trying to teach a gendered view of the past and many saw the introduction of the National Curriculum in the early 1990s as an opportunity to embed women's history in the school curriculum. In November 1991 Educationalist Michael Marland wrote in the Times Educational Supplement that `Syllabuses of the past have often written women out of history and edited their writings out of literature' and wondered whether the revisions that schools were undertaking as they incorporated the National Curriculum into their new timetables might right the balance. Many others shared his hopes at this time of optimistic anticipation. There was a real feeling that the 1988 Education Reform Act, with its notion of a pupil's entitlement to a `broad and balanced curriculum`, may pave the way to introducing women's history into the curriculum. Surely now was the time to correct the gender imbalance prevalent in the teaching of history?
'Women's history challenges, untidies, disorganises and unravels ….'
Some individual teachers did devise teaching strategies based on gender balance but for many women's history was a `bolt-on' approach. This meant `wheel the women out' for suffrage and war work, then 'wheel `em back`. As late as 2004 the Annual Report of the Qualifications and Curriculum Authority reported that black history and the role of women in history were not prominently featured in the curriculum in many secondary schools. They found that a lack of suitable resources was the reason most commonly given for this, but in a few cases teachers could not see the need to address the issue. The report went on to comment that the role of women in history is '… too frequently confined to studies of medieval women, the suffragettes, or in the worst case, to thematic topics such as "changing fashion". This lack of progress in including women in the curriculum made rather depressing reading after the wave of optimism expressed by some teachers in the late 1980s and early 1990s. However if, as Hilary Bourdillon and Paula Bartley suggested, women's history ` … is not about slotting women into a pre-existing framework. It is about reconstructing history as we know it. Women's history challenges, untidies, disorganises and unravels the well-knit narrative of men's ideas and activities` then it should come as no surprise that this challenging subject had still to be integrated into the curriculum. By its very nature it would be under resourced and to address it would require a rethink of that difficult question, `What is History?`.
Fiona Terry undertook an interesting research project in 1989 which illustrated why women's history should be taught. She observed that without specific teaching, pupils, given the choice, opted to write about male characters. Those who did write about women described them stereotypically in the domestic environment undertaking cooking and cleaning tasks. The pupils demonstrated no historical understanding of Anglo-Saxon society and it was clear that they visualised people in the past as male. Women were outsiders, in the background, engaged in a timeless unchanging domestic role. This unbalanced view of the past offered no strong, positive female images; a view which must impact to some degree on pupils' reflections on the present. Terry commented that `It was not enough to simply offer the opportunity to write as females – the content of the history course has to facilitate it.' This in turn highlighted the importance of `suitable resources` and teaching strategies.
Sue's school quiz: how would you do? (Answers below)
1. How did women play a role in the Battle of Trafalgar?
a. Women could join the navy and go to sea.
b. Petty officers and other sailors often took their wives with them to sea.
c. Don't be silly, women were thought to bring bad luck and were not allowed onboard a ship.
2. Who was the first woman doctor in the UK?
a. James Miranda Barry
b. Elizabeth Blackwell
c. Elizabeth Garrett Anderson
3. Who was the woman from Worcester who from 1744-1750 served as a soldier and sailor?
a. Vesta Tilly
b. Mary Wollstonecraft
c. Hannah Snell
4. The Queen unveiled a monument in Whitehall, London, in July 2005. To whom is it dedicated?
a. The England Rugby team
b. All women who played a role in World War Two
c. Emmeline Pankhurst
5. In English football, when did the first women's international game take place?
a. April 1920
b. June 2005
c. November 1972
In 2000 I undertook a small survey of how women's history was being taught in secondary schools. The teachers involved were not enthusiastic and felt there was a lack of relevant text books, insufficient source material and some expressed a feeling that women's history was not `proper` history. The topics covered were suffrage and war work. In 2005 I returned to the question of the status of women's history in secondary schools. I devised a questionnaire and sent it out to twenty-five schools; eleven responded. There was some improvement on the `suffrage and war` approach. Some schools were teaching topics such as Women and Work, Women in Nazi Germany and The Changing Role of Women in Russia 1855 – 1956. One enterprising history department had developed a module for Key Stage 3 (ages twelve-fourteen) entitled Women 1850 – Present: Work, Family, Suffrage and War. All respondents echoed the 2000 survey in wanting more and improved support materials, perhaps reflecting their own lack of time for research and/or confidence in tackling this contentious approach to history. There was a call for visual material on DVD and in pictures, and for source packs. Teachers also wanted women to be an integral part of text books and not dealt with in a token paragraph. The respondents expressed a desire to do a good job of teaching history and recognised that it meant including women whose roles in the past were still not being taught in a consistent and integrated manner.
Suitable textbooks are a difficult issue and not just for economic reasons. Audrey Osler carried out a survey of text books used in schools at Key Stage 3 in 1995 for the topics of Roman Empire, Medieval Realms and The Making of the UK. She used a variety of publishers and thirty-six books. One of her findings was that photographs and pictures of men outnumbered women 26:1. Given the importance of visual impact in the process of learning this goes some way to ensuring that history is viewed as the study of (great) men. On the other hand, text books that deal exclusively with women risk isolating and undervaluing women's contribution to, and experiences in, past societies. If women's history is considered as a separate topic pupils do not have the opportunity to consider the experiences of men and women together to see how gender operates as one of the dynamics of history. However there are good text books that integrate women in to history in a seamless way, and examples from these books could be used as a framework for exercises and tasks which eliminate the `bolt on `approach. A good example is the task on `Interpretation` in Changing Minds: Britain 1500 – 1750. Here the task of learning about how historians interpret the same sources differently is done through looking at resources relating to women's lives in the Early Modern period. Consequently pupils receive some good contextual knowledge about gendered beliefs and roles in that period. Christine Counsell offers an excellent way of using a woman's life experience to examine the historical concept of `significance`, and aspects of life in the late-nineteenth century, in an article on Josephine Butler in Teaching History (August 2005). These sort of `cunning plans` can be devised for any period.
Source material is abundant but is often hidden and therefore time consuming to discover. Women's history pioneer Carol Adams wrote of the wealth of material available in the British Library, remarking that the only problem was it had to be found. Amanda Capern of the Women's History Network also pointed out the difficulty of finding women in the archives. She studied the Holtham family papers from the seventeenth – nineteenth century. The archive was arranged into primary sections of men's papers and women appeared as either a sub-category or fragmented throughout. Frances Holtham (nineteenth century) had two cookery books in Recipes; five diaries in Diaries; inventories and a wallet in Miscellaneous; letters to her husband in his papers; 123 letters to her in four different sections of General Correspondence. Her personal archive was so fragmented that she was marginalised. She was not on the National Register of Archives database, yet men in the family were, despite leaving fewer papers. So the importance of power, politics and property conspire to hide women in the archives and thus from history. Source material is there but is often only found with difficulty and serendipity! The busy teacher would perhaps have to rely on the latter and that is not very reassuring with Ofsted visits.
The National Curriculum and examination board syllabuses are responsible for curriculum content in state schools and neither have traditionally featured explicitly women's history. Examination syllabuses were never really gender inclusive although since 2003 there has been some improvement. It is now possible to undertake a depth study at GCSE (Edexcel) as the coursework component in topics such as Votes for Women, The Matchgirls' Strike, The Changing Role and Status of Women since 1945 and Women during World War Two. GCSE sections Medicine Through Time and The American West also address women's roles. At A level there is now the opportunity to study, as ever, Women and Suffrage, but also Women's roles in Nazi Germany and Russia. The current National Curriculum, which was implemented in September 2008, has no explicit mention of women's history or the causes and consequences to society of gender dynamics. Given the comments made in the QCA (Qualifications and Curriculum Authority) 2004 Report regarding the lack of attention paid to women in history, this appears somewhat remiss. It is interesting to note that attention has, quite rightly, been paid to the comments regarding black history and to the recommendations of the Macpherson Report (HMSO 1999) on the death of Stephen Lawrence which stressed the need to develop anti-racist approaches and to challenge racism. Donald Macleod reported on the findings of the QCA December 2005 report in the Education Guardian in January 2006. The report stated that all too often the teaching of black history was confined to topics about slavery and post-war immigration and that this undervalued the overall contribution of black and ethnic people to Britain's past and ignored their cultural, scientific and other achievements. A multi-ethnic histories bibliography for Key Stages 2 and 3 was made available to teachers at www.qca.org.uk and, under Key Concepts in the revised national curriculum, pupils must study Cultural, Ethnic and Religious Diversity. Substitute `women` for `black` and `suffrage and war work` for `slavery and post war immigration` and we have the same undervaluing of fifty per cent of the population. Where are the support materials for the teaching of women's history in schools? Of course the enthusiastic and determined proponent of women's history can ensure women are included in the curriculum, but a more supportive framework is the only way to ensure it is taught in a consistent , integrated manner.
For a combination of reasons then women's history still has a low profile in many schools. Women's history is important. As Fiona Terry demonstrated, a lack of women's history skewed pupil's understanding of the subject, marginalised women and ensured they had low status. Ruth Tudor produced a superb book for teachers with adaptable ideas for the classroom based on sound ideas of why women's history should be taught. She highlighted how important it is to enable young people to come to an understanding of the root causes of discrimination on the grounds of sex, race and class, and for that an historical perspective is essential. The Women's History Network promotes women's history and that includes targeting schools. They offer the Carol Adams sixth-form essay prize to schools and regional WHN groups have run conferences aimed at teachers, offered essay prizes to A level students and taught classes in schools to promote women's history. If pupils are to `understand these [key] concepts in order to deepen and broaden their knowledge, skills and understanding` and `understand the diverse experiences and ideas, beliefs and attitudes of men, women and children in past societies and how these have shaped the world`, as the 2007 National Curriculum requires, then women's history has to be integrated into the history curriculum. Surely the ideas in this Anderson and Zinsser comment, from the introduction to the second volume of their ground-breaking A History of Their Own, offers just the sort of challenge the enthusiastic historian and teacher enjoys.
Learning the history of women changes irrevocably one's view of the past. `History` can never be the same again. Traditional approaches to history must be adjusted and augmented to include the female as well as the male. The result will be a retelling of the human past enriched and made complete, a retelling that will give us for the first time a true history of humanity.
Need to Know…
Sue Johnson is a Senior History Lecturer at the University of Worcester. She teaches eighteenth, nineteenth and twentieth-century British History. Her research interests are in the teaching of women's history in secondary schools and eighteenth-century women silversmiths. Sue is co-ordinator for the Women's History Network Midlands Region.
See also:
Bonnie Anderson and Judith Zinsser, A History of Their Own: v. 1: Women in Europe from Prehistory to the Present (Pelican)
and A History of Their Own: v. 2: Women in Europe from Prehistory to the Present
Deidre Beddoe, Discovering Women's History: A Practical Guide to the Sources of Women's History, 1800-1945, (Longman, 1998)


Hilary Bourdillon and Paula Bartley, 'Controversial Women' in Teaching History (July 1988)
Byrom, Counsell, Riley and Stephens-Wood, Changing Minds Britain 1500-1750 (Longman 1997)

Audrey Osler, 'Does the National Curriculum bring us any closer to a gender balanced history?' in Teaching History (April 1995)
Fiona Terry, 'Women's History and Children's Perceptions of Gender' in Teaching History (July 1989)
Ruth Tudor, Teaching 20th Century Women's History: A classroom approach (Council of Europe, 2000)
Answers to quiz :
1. b. Women, wives and prostitutes, often went to sea with their men, or they masqueraded as men to serve as sailors and in other roles. There were women on board The Victory at the Battle of Trafalgar (1815) and they suffered severe hardship with great courage, not least in attending to people with horrific injuries. The women's presence was not recorded on the ship's musters or in other official records, we have discovered them from other evidence. For example, boys and men sometimes gave their birthplace as 'at sea'— so women must have been there!
2. a. James Miranda Barry (1795-1865) masqueraded as a man in order to gain medical qualifications. She graduated in medicine from Edinburgh University in 1812 and entered the army as a hospital assistant the following year. She rose up the ranks swiftly to become Surgeon Major in 1827; on retirement in 1859 she held the post of Inspector General of the Medical Department. That she was really a woman was only discovered on her death.
3. c. Like James Miranda Barry, Hannah Snell (1723-1792, also known as James Gray) had to disguise herself as a man, initially in order to find the man who had deserted her while she was pregnant with his child (the baby lived only five months). Hannah had married Dutch seaman, James Summs, around 1743; in 1795 she dressed as a man and went off to find him. First she enlisted as a foot soldier, and then sailor, on a boat heading for the East Indies. She was involved in fighting but, despite serious injury, managed to conceal her identity. After five years following a military career Hannah returned to Britain and wrote a book about her experiences. She received a small annuity as a Chelsea pensioner and was buried at the Royal Chelsea Hospital, one of only two women who have been granted this honour.
4. b. The memorial to The Women of World War II was unveiled by the Queen on July 9 2005. It stands on Whitehall in London, close to the cenotaph. The design, which features a frieze of hats and coats, has attracted criticism from veterans, including some members of the Women's Royal Army Corps (WRAC). They argue that representing women's contributions to World War II with a rack of clothing is both meaningless and demeaning.
5. a. The first international game between two women's teams was held in April 1920. Dick Kerr's Ladies (a Preston-based team) played a women's team representing France in a series of games for charity. A crowd of some 25,000 saw Dick Kerr's Ladies win 2-0. (The first women's football match recorded was held between a northern and a southern team in 1895, with the north winning 7-1). The year after this first international the Football Association (FA) banned women from playing on Football League grounds and expressed 'their strong opinion that the game of football is quite unsuitable for females and ought not to be encouraged'. This ban was lifted in 1971, and a national women's football league has been running since 1991. (More information on the history of women's football can be found at www.thefa.com.)