Women in Hospital Service in World War One
A brief overview by Anne Powell, author of Women in the War Zone : Hospital Service in the First World War   
A researcher's story
Depending on the type and extent of his wound a soldier would either struggle on his own, be carried by a comrade, or placed on a stretcher, and taken to the regimental aid post situated somewhere on the edge of the battlefield.  Male stretcher bearers, trained in first aid, treated haemorrhages, and gave other immediate help. At the aid post a regimental medical officer and his staff dressed the wound and then the soldier was taken further back to a field dressing station.  From there he was sent to a casualty clearing station, situated well behind the line, and then to a base hospital.  Women nurses served in both.
One of the books I read at the time - a diary written by a nursing sister in France - made a lasting impression. After Shadows of War, my book on the women who wrote poetry during the Second World War was published in 1999, my interest in women nurses was rekindled and I started to plan a book on the experiences of members of the Voluntary Aid Detachment (VAD). In September 2001, after spending three days in the Imperial War Museum going through their card index system, I realised that I must extend my research to include not only VAD nurses and orderlies, but also women doctors, administrators and ambulance drivers - and that all these women must have served overseas.
Over the next seven years I read amazing archives—memoirs, letters and diaries—written as events unfolded, later from hastily scribbled notes, or from memory.  I became absorbed in these immaculately kept and detailed memoirs, the long but faded penciled letters, the small diaries filled with minuscule writing.  These were accompanied in many cases by fascinating photographs, newspaper cuttings, and small items of memorabilia.  In addition to these I read many volumes of autobiographies, published during the war years or during the 1920's and early 1930's.
Women on the Western Front 
From the powerful and moving testimonies that I discovered, I gradually understood that there were many groups with whom women served on the Western Front, including  private hospital units, the Women's Hospital Corps, the First Aid Nursing Yeomanry Corps (FANYs), and the British Red Cross Society.  There were also thousands of women who travelled further afield - some worked independently with a foreign Red Cross, others became members of Dr Elsie Inglis's Scottish Women's Hospitals, Mrs Stobart's Field Hospitals, Field Columns, and other Relief Fund Units.  These had been established at the start of the war, after Elsie Inglis and other women doctors were refused permission to serve with the British army.  Angry but undaunted, they had immediately responded to urgent requests by the Serbian, Russian and Romanian authorities to take hospital units, staffed entirely by women, to help alleviate the horrific suffering in those countries.
Many of the women were young VADs, trained 'in the art of improvisation and in coping with emergencies'.  They included suffragists, feminists, married and career women, qualified doctors and nurses, and those with no qualifications at all.  The untrained women worked as cleaners, drivers, and orderlies but their duties became more wide-ranging as they became more experienced.  Some saw the war as a release from the genteel role of a daughter destined to run the household for ageing parents and an exciting escape from boredom and drudgery.  Every unit included young and keen VADs ready to embark on 'an adventure of a lifetime'.  It did not take long for the reality to hit them.
Over the four war years this cross-section of women endured homesickness, terrible hardships, exhaustion, grim conditions, bitter winters and intense heat, in Serbia,  Russia, Romania, Egypt, Mesopotamia, Corsica, Italy, France and Belgium.  They experienced long and chaotic train journeys, torpedo attacks at sea; they lived in ambulance trains and barges, on board hospital ships in the Dardanelles, in primitive, makeshift, ill-equipped hospitals and dressing stations, under canvas, in disused barracks and schools, in convents and monasteries, in abandoned chateaux, at railway stations, on hillsides, in lonely countrysides, in deserts, and in shattered towns and villages.  They treated endless streams of sick and frightened civilian refugees, and 'in wards like battlefields'  they nursed the appalling wounds suffered by casualties during terrible battles and as armies either advanced or retreated both on the Western and Eastern Fronts.  Although they also struggled against mundane problems, difficulties and jealousies, there were good times too—deemed 'topping' and 'ripping'.  Concert parties, dances, visits to theatres, operas, cinemas, boat trips, picnics, walks, car excursions, and flirtations provided recreation from the grueling routine of hospital work.
Individual biographies
Fifty-one individual experiences, reflecting many different attitudes and emotions—sorrow, compassion, fear, courage, resourcefulness—are included in Women in the War Zone.  There are well-known names such as Edith Cavell, Vera Brittain, Freya Stark, Flora Sandes, Florence Farmborough, Elsie Knocker and Mairi Chisholm, and many who have been forgotten.  They all shared a belief that they were 'doing their bit'.  Two middle-aged women were established writers—one opened a soup kitchen on a railway station in France; the other went to Serbia as an orderly in Mrs Stobart's Field Hospital and wrote 'the only way to see war is from a hospital' shortly before she died of typhoid.  A nursing sister in Belgium at the start of the war, and all the British women who staffed a military hospital in Serbia in 1915, became prisoners-of-war; an experienced obstetrician, a Quaker, established a maternity hospital for refugees in France; a young aristocrat defied the authorities and set up a convalescent hospital in Alexandria, Egypt; a medical student, with Dr Elsie Inglis's Scottish Women's Hospitals in Romania, was entrusted with much of the responsibility of a fully-qualified doctor; a married woman started as an untrained VAD in Belgium in 1915 and two years later became the head sister of a ward of eighty surgical patients; a young VAD gave a first-hand account of the murder of Grigorii Rasputin in Petrograd, another nursed Armenian refugees in Russia; the sister in charge of a casualty clearing station during the Battle of Arras, had no time to write the ever-increasing 'Break-the-News' letters; one young Very Adorable Darling, as the VADs soon became known, created a garden in France, another visited a harem in Kuwait.
Women in the Warzone contains 3 – 12 page extracts of accounts from each of these remarkable woman, each preceded by details of the historical events to which she refers.  These are placed in chronological order of the war years.  The book also includes an Introduction, Biographical accounts of the women, a Bibliography, Maps, a list of relevant dates throughout the war, a Glossary and an Index.  All the women are British apart from one Australian and one New Zealander.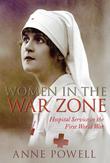 Women in the War Zone: Hospital Service in the First World War

 by Anne Powell is published  by The History Press at £25.00.
A review of Women in the War Zone was published in the Winter 2009 issue of HerStoria Magazine, and will be available on this website soon.
Doctor Elsie Maud Inglis (1864-1917)
Elisie Inglis qualified as a doctor in 1892; she was a keen supporter of women's rights and was active in the constitutional wing of the women's suffrage movement in Edinburgh. When war broke out in August 1914 she immediately offered her medical services to the War Office and was famously rebuffed with the words 'My good lady, go home and sit still'. Inglis then determined to set up her own independent hospital units staffed by women. After a successful campaign to raise funds she set up 'The Scottish Women's Hospitals for Foreign Service (SWH)' . The SWH may have been shunned by the War Office, but allies were extremely grateful for its help and units went out to countries including France and Serbia.
Although with some anti-war sympathies, at the outset of WW1 Mrs Stobart founded the Women's National Service League to facilitate women's war service both at home and abroad. She set up all-women staffed hospitals in Belgium, Antwerp and Northern France and, in 1915, created an innovative tented hospital in Serbia, and a series of emergency dispensaries to which thousands of Serbian civilians turned to for help. In 1915 the Serbian Army Medical Services sent her to the front in command of a mobile hospital unit. Stobart  led her group on horseback for over eighty days through harsh terrain, arriving in Scutari (Albania) without any loss of personnel.