Women in the 1920s
by Pamela Horn, (Stroud: Amberley, sale 2010),(Paperback) £16.00, ISBN 978-1-84868-811-7
Reviewed by Fiona Skillen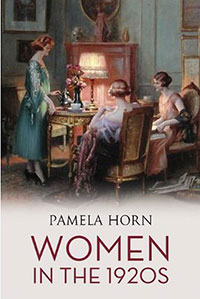 Pamela Horn provides an informative and detailed account of life for women during the 1920s in Britain. She works her way carefully through different aspects of women's lives, closely examining the variety of experience. Each chapter takes a theme, so we have a chapter on 'War and Peace', 'The Social Elite', 'Middle-class Wives and Daughters', 'Working Women', 'Making Ends Meet', 'Professionalism, Politics and Power', 'Life in the Countryside' and finally 'Leisure and Pleasure'.
In each chapter Horn considers the continuities and changes taking place in the period. For example in 'Leisure and Pleasure', she discusses gossip, betting, holidays, technical changes, hire-purchase, dancing, theatre and cinema to name only a few. Each other chapter is similarly packed with information. She skilfully places new developments, whether they be social, political or the case of 'Leisure and Pleasure' often technical, within their appropriate context, thereby highlighting  the connections and breaks with the past. It is this style, of giving a very comprehensive overview of the developments, which makes this such a good book for those just beginning to read up on the period or undergraduates on history or gender courses.
My only criticism of this book is the lack of a final overall conclusion. I would have liked to have seen the author tying up her arguments rather than just stopping after her discussion of holidays and leisure in the final chapter. However the author's accessible style, the fascinating subject matter and the interesting illustrations all ensured this was a very enjoyable read. The reprint of this book is a very welcome addition, or rather re-addition, to the growing body of work on gender and the inter-war years currently emerging.
Women in the 1920s is available from Amazon