Octavia Hill (1838 - 1912)
Housing reformer, social reformer, philanthropist and co-founder of the National Trust.
By Claire Jones
In her time Octavia Hill was an influential and well-known figure, now she is regarded as an important pioneer of female activism in the public sphere. Although her name is not so familiar today, her legacy is with us in our public parks, Victorian/Edwardian housing estates, and in professions such as social work. She combined extraordinary vision with exceptional organisational skills and these equipped her to invent the concept of the 'green belt' and become the driving force behind the founding of the National Trust.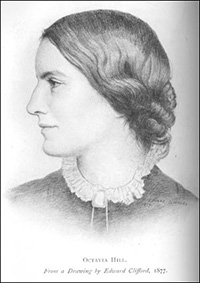 Octavia Hill was born in 1838 in Wisbech, Cambridgeshire, into a family with a tradition of producing radicals and social reformers. However her upbringing was not without its problems; when her father was bankrupted Octavia, her sisters and her mother earned their living by running a toy workshop for the Christian socialists. Octavia helds strong Christian principles; although she never married, she held that women's primary duty was to their families and that middle-class women who did not marry (or those who had fulfilled their family reponsibilites) should take this caring role into the public sphere through the exercise of philanthropy.
Octavia's ideas about women's family focus and caring role was in keeping with Victorian ideals of womenhood; she insisted that women had a duty to serve the families of the poor, but also that the type of work they did had to be domestic in nature, 'quiet' and 'out of sight'. One of Octavia's concerns was that women should not encroach on male spheres or violate the norms of womanly behaviour. As a result she avoided publicity or speaking in public—activities unseemly in a Victorian woman.
Octavia's projects
Housing
Octavia's career began in 1864 when she embarked on the re-development and management of a handful of run down properties in Marylebone Place in London. Her plan was to rehabilitate these slums and then rent them at low cost to poor tenants. She financed her project (which she called 'Paradise Place') with a loan from the writer John Ruskin who insisted on a fair return for his money. This Octavia achieved with success, giving her confidence to apply the same scheme to numerous other properties in Britain and abroad. In 1884  she was asked by the Ecclesiastical Commission to take over the management of a few properties in Southwark; Octavia agreed on condition that she could acquire in addition a long-lease on a plot of land to turn into a garden for the local people:
'Red Cross garden was soon overlooked by Red Cross Cottages and Red Cross Hall. Octavia became the squiress of this little village in south London, looking after the needs of the tenants with open-air festivals, a flower show, indoor entertainments, educational activities, a library, clubs, a cadet corps for the young men, and an annual performance of The Messiah'. (Whelan, Letters)
More (re)developments followed: the Lambeth estate in 1901 and Walworth in 1903.  These were huge undertakings involving the demolition of houses covering many acres and the creation of new roads, recreation grounds and community facilities. Tenants had to pay on time or be evicted. Octavia applied this strictly, both for financial reasons and to foster responsibility and respect in the tenants, turning them into 'good citizens'. But to ensure these poor tenants could pay the rent she organised employment opportunities for them, as well as providing parks and gardens to foster their well-being and moral improvement. Her approach was always as much about improving the tenants as improving their living spaces.
Octavia's expertise was recognised by the government which consulted her and appointed her a member of the 1905-9 Royal Commission on the Poor Law (the first to allow women commissioners.) She would have been a member of the Royal Commission on Housing in 1884 had the home secretary not objected to the impropriety of a female commissioner.
Charity Organisation Society
In 1869 Octavia Hill became a founder member of the Charity Organisation Society (COS) which forged links between various charities and aimed to promote a rational approach to giving by distinguishing between the deserving and undeserving poor, and by stressing the significance of individual responsibility. Charity was to be a vehicle for encouraging self-help which would be given to the deserving poor only. For example, the COS would not endorse just giving out money but would give a sewing machine to enable someone to earn a living. Octavia stridently opposed relief to the able-bodied; she argued that giving money in this way would be of no long term benefit and, worse, would discourage the habit of thrift and saving for a 'rainy day'. The poor needed to be taught self-control and foresight, not come to rely on handouts. (Echoes of our modern phrase 'dependency culture'?)
Social work and women's activism
Octavia's vision and work helped to open up a professional role for women at the end of the 19th and beginning of the 20th centuies. She recruited middle-class women as volunteer rent collectors, although they had a much wider role than that title suggests. Octavia trained them to assess the way tenants were living and to inspect their homes; in addition to this rent collecters were expected to set an example. Beatrice Webb (then Potter), the social investigator and Fabian, began her career as a rent collector trained in the 'Octavia Hill system'.
These women were in effect prototype social workers who, through the act of rent collecting, gained access to the lives of the poor whom they met at least twice a week. Hygiene was crucial to the process of raising 'standards' and, for example, flats were expected to be clean and tidy when the rent collector visited. The women visitors also organised events like sewing classes and would be available if there was a family crisis. They would organise clubs, boys clubs to instil independence and 'manliness' (the Army Cadet Force has its beginnings in one of her clubs in Southwark) and sewing clubs or similar for girls. But it was working class women who were the prime target of Octavia Hill workers. In Women and Social Action in Victorian and Edwardian Britain Jane Lewis talks about the increasing numbers of people inspecting the poor and writes that 'by the last quarter of the nineteenth century, the large numbers of unpaid visitors were middle-class women, bent on leaving their homes in order to instruct working-class women how to manage theirs.'
The Kyre Society
Octavia Hill was a pioneer of 'cultural philanthropy' and was convinced that exposure to art and beauty could improve the life of the poor. She founded the Kyrle Society in 1875 (named after the 17th /18th century philanthropist and tree-planter John Kyrle) which was a society 'for the diffusion of beauty'. The Society planted trees and flowers in urban areas and promoted aesthetics in the decoration and building of houses. This Society enjoyed strong support from William Morris.
The National Trust

In keeping with her belief in the importance of green, open spaces to healthy living, Octavia participated in the founding of the National Trust in 1895. Earlier, she proposed what she called a 'green belt' to link the fast-vanishing open spaces around London, part of her campaign for parks and open spaces for Londoners.
University Settlement
Octavia was also a key figure in the Women's University Settlement (WUS) movement which she founded in partnership with the COS. She had gone on record in 1882 as believing that a great deal of the degradation of the poor stemmed from the absence of a middle-class presence and opinion in poor areas (such a view was commonplace in the 1880s). The WUS hoped that by living among the working classes and setting an example they could improve the lives and morals of the poor.
Conclusion
Octavia Hill died in 1912. She was celebrated in her day, but after her death her reputation declined and she had been largely forgotten until recently. Her legacy was at odds with later social thinking which saw the role of the State enlarge. Octavia argued strongly against government involvement in rectifying social problems: she resisted any participation of the State in providing welfare services and objected to council housing, school dinners and free health care. (Of course, this attitude was fully in keeping with the ideology of the COS). Octavia's fear, echoed by right-wing thinkers today, was that State provision would corrupt the poor and make them lazy or, in a modern phrase, create a culture of 'welfare dependency'. The debate goes on …….
Sources
Robert Whelan and Anne Hoole Anderson (eds) Octavia Hill's letters to fellow workers, 1872-1911 (Kyrle Books, 2005)

.
Robert Whelan ed., Octavia Hill and the social housing debate, essays and letters (Rediscovered Riches)

.
Nancy Boyd, Josephine Butler, Octavia Hill and Florence Nightingale: Three Victorian women who changed their world (Macmillan, 1982)

.
Website: www.octaviahill.org Octavia Hill birthplace museum.