Lily Montagu, Religious Reformer and Social Worker
By Rabbi Lawrence Rigal
Today both Liberal and Reform movements now have women Rabbis and they use new prayer books written in inclusive language, where God is no longer referred to in male terms. All of this directly followed on from the ground-breaking start made by Lily Montagu.
Introduction
On the walls of a large house in Palace Court, just off the Bayswater Road, there used to be one of the standard blue plaques saying that Lily and Marian Montagu, social workers, had lived here. Some twenty years ago, a later occupant of the house had it removed. The plaque itself was an understatement. Not only were they social workers, but Lily was responsible for starting a whole Jewish movement, which today is comprised of thirty-seven Synagogues and affiliated congregations and she pioneered the path towards women playing an equal role in Judaism.
Lilian Helen Montagu (1873-1963) was the sixth child of Samuel and Ellen Montagu. Her father was a banker who became Sir Samuel Montagu, MP for Whitechapel, and then the first Lord Swaythling. Samuel Montagu and his wife were Orthodox Jews who strictly observed Jewish practices in their home. The children were given an upper class English education supplemented by Jewish instruction by the minister of the Bayswater Synagogue to which the family belonged. Lily developed a great love for Judaism and had a deep faith which remained with her all her life. She became particularly interested in the Hebrew prophets' teachings of social justice.
Early life and work
When she was seventeen, her minister, Rev. S. Singer, asked her to arrange services for the children of the congregation. While the adult services were all in Hebrew, her services had many of the prayers in English and she would either preach or read a story. Sometimes mothers attended too and her services eventually attracted a number of these adults. In 1901 she published a Children's Prayer Book for use at these services.
In 1892 Lily Montagu started to run classes in English literature at a club for Jewish girls in the West End of London. The following year, with the help of her sister Marian, she opened her own club which was later to be known as the West Central Jewish Girls Club. At that time the back streets off Oxford Street were a sleazy area where the cheap accommodation attracted many of the new Jewish immigrants fleeing from the antisemitism and pogroms of Tsarist Russia. It was a mixed area which had many clothing workshops and a red light district.  Young girls growing up in here were in moral danger and the club was a deliberate attempt to combat the bad influences amongst which the girls lived.
Lily, who was a good organiser, ran the club and Marian assisted her as the treasurer. Neither of the sisters had had any training for youth work, they had to learn as they went along. Lily soon gathered together a band of helpers and the club prospered. In her conversations with the girls, the deeply religious Lily Montagu was shocked to find that many of them did not think that Judaism had any relevance to their lives. It was not just that Jewish ritual was entirely in the hands of men, and that women were relegated to a special women's gallery; it was also that the service was entirely in Hebrew and, as girls, they had not been given a Jewish education and so could not even follow in the prayer book. Lily Montagu introduced some prayers which they could understand at the end of the club evening.  Later she started to hold Sabbath afternoon services.
In 1898, as a youth leader, she attended a conference which discussed Jewish Elementary Education.  Delegates came from Jewish communities from all over the country. What came out of it was that the traditional form of Jewish education was not working and that when the children grew up many "were drifting away from Judaism altogether", as Lily herself later described it. After the conference she set down her thoughts, concluding that the whole approach to Judaism needed altering. She wrote an article entitled "The Spiritual Possibilities of Judaism Today"
Radical ideas about Judaism and womanhood: The Jewish Religious Union
This article was published in the Jewish Quarterly Review in the following year. It aroused considerable interest, partly because it was written by a woman and partly because there was a general concern in the Jewish community about the activities of Christian Missionary Societies. It is perhaps difficult for us today to realize how male dominated Judaism had become. Only a year before Lily wrote the article, the first meeting  that discussed the affairs of a British synagogue and to which women were allowed to attend, had been held. At that meeting the women were allowed to be present but not to speak. Yet here was a young Jewish woman articulating radical ideas and advocating change. Some readers encouraged her to proceed further. She wrote round to a number of her acquaintances, seeking their views. One of them, a theologian called Dr Claude Montefiore, wrote in great detail about what he thought should be the new form of Judaism.  Lily organised some meetings to gather support and eventually at a public meeting it was agreed to form the Jewish Religious Union (JRU). A committee was formed to arrange the holding of services on radically new lines which they hoped would attract back some lapsed Jews. She persuaded Claude Montefiore to be the President, while she was one of the vice presidents.  Although only a vice president, Lily was the driving force behind the new Union and Montefiore used to refer to her as his gadfly.
The first service took place in a hotel in Marylebone. Many of the prayers were in English and men and women sat together.  To show how radical this was thought to be, one of the reporters described in a Jewish newspaper how "the men and women sat promiscuously". There was considerable opposition to the JRU and one of the chief opponents was Lily's own father, who was by now president of a very Orthodox group of synagogues. In his will he left her a legacy on the strict condition that none of his money could be used either for her religious or for her youth club activities. This difference of opinion caused her much heartache and after his death she published a biography of her father which possibly helped to ease her conscience.
After a few years of these services, the JRU decided to have their own synagogue, which they called the Liberal Jewish Synagogue, and the two sisters became leading members. In 1916 Lily was asked to read the prophetical passage (what Christians would call the lesson) at the Sabbath service and in June 1918 to deliver the sermon. Each of these was the first occasions that a woman had done this at a main service in a synagogue in Britain.  Before this they had only done so at children's services but not in the main synagogue.
Lily developed the services at the West Central club into the West Central Liberal Synagogue. She set out on a campaign to encourage other Jews to form other Liberal Synagogues first in North and South London, then in places like Liverpool and Birmingham and even inspired the founding a congregation in Bombay (now Mumbai). Because of Lily's influence, those synagogues in Britain were all part of a group called the Union of Liberal and Progressive Synagogues (now called Liberal Judaism) and were the first group of synagogues that was not Orthodox.
Lily made contact with Liberal and Reform Jewish leaders throughout the world and proposed the idea that there should be a world-wide organisation of such synagogues. It was agreed and Lily became the organising secretary. In 1928, during the second conference of this World Union for Progressive Judaism which was held in Berlin, Lily was asked to deliver the sermon at the Sabbath service and so became the first woman to preach in a German synagogue.
Working for the welfare of children and girls
Lily Montagu also played a major role in secular society. When, in 1919, parliament passed an act permitting women to be magistrates, she was one of the first to become a JP. No doubt because of her youth club experience, she specialised on juvenile cases. She made her mark in this field. At times, she visited parents to ensure that they played a full role in bringing up their children and she also tried to keep in contact with many of the children who had come before her. She wrote them letters and even sent presents at holiday times.
Neither Lily nor Marian ever married but they had a great interest in the welfare of children.  Realising that some parents were unable to care for their children, she set up the Maude Nathan Home to provide such care. They made sure that it would not feel like an institution by limiting the number of children to about twenty and by providing suitably caring staff.
Lily was interested in creating umbrella organisations which brought like minded individuals together.  Apart from the World Union for Progressive Judaism she helped to found the National Association of Girls Clubs which later became the National Association of Girls and Mixed Clubs (now UK Youth) and she also played a big part in the Women's Industrial Council. In this way she was helping the working girls whom she came respect and care for.
Lily and the first women Rabbis
In the 1940s, Lily's position in Liberal Judaism was recognised when she was given the title of Lay Minister. She used to conduct all the services that other Jewish ministers did, including weddings and funerals. The first woman to be given the title of Rabbi had been Regina Jonas in Germany in 1935, she served as a Rabbi while in Theriesenstadt concentration camp and died in Auschwitz. In 1975, Jackie Tabbick became the first woman Rabbi to be ordained in Britain.
One night during the Second World War, the West Central club and synagogue building was totally destroyed in an air raid when a land mine dropped on it. Twenty-seven people sheltering in the basement were killed. Most of these were club members or helpers. Lily Montagu showed the greatness of her character by providing moral leadership. In the club letter circulated to members afterwards she wrote:
… After our beautiful service on Saturday, a man pressed my hand in kindly, sympathetic way, and said: "All right, Miss Montagu, we shall have our revenge!" If he meant that a Berlin woman who had given her life to some piece of work for nearly fifty years should experience my kind of heartache when she saw the outward shell destroyed in a few minutes; if he meant that another woman should see the place shattered which echoed night after night for twenty seven years with joyous sounds of young people bent on recreation and education, and revelling in activity: if he meant this, then indeed he offered me a poor form of consolation. In memory of our dead, I would urge you to cast hatred out of your hearts, as hatred is destructive, and through hatred we lose our standards and aspirations.
A personal reminiscence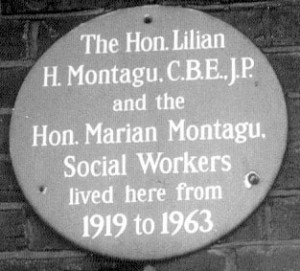 I only got to know the sisters quite late in their lives, when I used to teach at the West Central Synagogue's religion classes. Even in her late eighties, Lily Montagu's organising ability and her attention to detail never left her. She expected me to phone her after the classes were over to report on how the morning went. If I was unable to do so, when I got home my phone would ring and she would be asking me about the classes.
In this article I have followed the modern practice of using her first name, but in her lifetime out of respect her followers referred to her either as Miss Montagu or Lily Montagu, while the club girls called her Miss Lily.
Lily Montagu was buried next to her father. One wonders whether he would have approved of this.  Today both Liberal and Reform movements now have women Rabbis and they use new prayer books written in inclusive language, where God is no longer referred to in male terms. All of this directly followed on from the ground-breaking start that Lily Montagu made.
Rabbi Lawrence Rigal is the author (with Rosita Rosenberg) of Liberal Judaism: The First Hundred Years

Liberal Judaism Union of Liberal and Progressive Synagogues, 2004. Also available from Liberal Judaism, The Montagu Centre, 21 Maple Street, London W1T 4BE. He also also runs a website about Jewish customs and practices at www.jewish-customs.co.uk.